For member directories by chapter, visit the member portal page here. 
Membership in NUCA of Florida can be attained through one of the local chapters. Membership is available for any of the counties not covered by the four chapters through our At Large & No Affiliation Membership program. If you are in an At Large county, you will be directed to our At Large or No Affiliation membership application.
NUCA of Florida was formed in 1980 by four Florida National Utility Contractors Association (NUCA) chapters to promote the state underground utility contracting industry and to increase the influence of the individual chapters. Over the years, our membership has grown tremendously. NUCA of Florida remains active on the state level and has contributed to the betterment of the industry by input into several areas:
Participated in and supported the creation of the Underground Utility and Excavation Contractors state certified contracting license.
Participated in and supported the creation of the Contractor V classification which allows underground utility and excavation contractors to install underground fire lines.
Instrumental in creating reauthorization and funding of Florida's Clean Water and Safety Drinking Water State Revolving fund.
Monitoring legislation that affects our industry.
Monitoring the activity of the Construction Industry Licensing Board (CILB).
Providing alerts on FDOT proposed specification changes. NUCA of Florida was instrumental in the drafting, introduction and passage of:

A "Prompt Pay" bill for public construction – '89, '95, '01 & '10 Legislative Sessions.
The "Trench Safety Act" – '90 Legislative Session.
A "Prompt Pay" bill for the private sector – '92 Legislative Session.
A voluntary "One Call" bill – '93 Legislative Session.
The "Public Bid Disclosure Act" – '93 Legislative Session.
The "Free Market Bill for Public Construction" – '94 Legislative Session.
The repeal of the Health Care Mandate for state contractors – '95 Legislative Session.
The "Student–Learner" bill – '96 Legislative Session.
A mandatory "One Call" bill – '97 Legislative Session.
Streamlining renewal and continuing education requirements for Contractor V licenseholders – '97 & '98 Legislative Sessions.
A "Uniform Licensing" bill – '99 Legislative Session.
Changes to "Competitive Bid", F.S. 255 – '99 & '09 Legislative Sessions.
Increasing the administrative fines that may be imposed on unlicensed contracting – '01 Legislative Session.
A major reform to "One Call" – '02 Legislative Session.
Limiting the use of Owners Controlled Insurance Programs (OCIPs) – '04 Legislative Session.
Prompt Pay/Retainage – '05 Legislative Session.
Revisions to "One Call" including extending valid ticket information to 30 calendar days – '06 Legislative Session.
Sales Tax Exemption Construction Material which revise the laws relating to direct purchase of construction materials by public entities – '10 Legislative Session.
Worked with other business interest groups to secure passage of critical modifications to the Unemployment Compensation Laws of Florida – '11 Legislative Session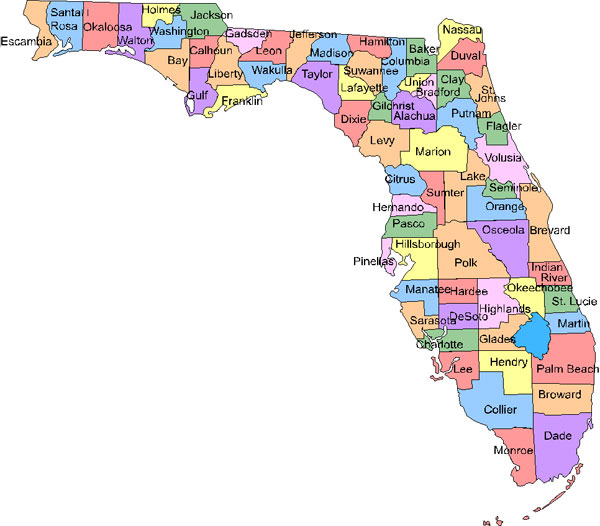 To find the local chapter that your company should join, please click on your county on the map above and it will direct you to the chapters page and scroll to the correct chapter. If you are unsure which chapter to join, hover over your county and the name will appear.